ASEAN Economic Community (AEC) : Some data
To be realized by the end of 2015
A Free Trade, single market

More freedom of movement of goods, services, investments, capital, and skilled labor

633 million consumers

GDP of $2.3 trillion

5.6 percent growth rate in 2014

Integrate Asean into the Regional Comprehensive Economic Partnership (including China and India).
Un article à lire pour comprendre les enjeux du Marché Commun de l'ASEAN (AEC) pour le Cambodge
A must read article if you want to understand AEC
What Cambodia is going to do is to make sure that it has more transparency. It needs to have financial regulation. It has got to cut down on corruption, cut down on protectionism, monopoly and cronies. All of that has to be done. It will be very difficult, which is why, as I said before, non-tariff barriers are where the reform has to be done, and there are not enough political will to accomplish this yet…If you don't do it, the business and investment will go to other countries.
Leaders of the 10-member Association of Southeast Asian Nations (ASEAN) Sunday signed a declaration establishing a formal economic, political, security and socio-cultural community.
Compared to the European Union, the AEC is culturally and politically more diverse with various systems of government including communism (Laos and Vietnam), a military junta (Thailand), authoritarian (Cambodia), quasi-civilian (Myanmar) and a monarchy (Brunei).
In a number of the ASEAN states corruption is considered endemic, a problem seen as hampering the economic integration process.
"As ASEAN moves towards regional economic integration, unequal and unsustainable economic growth will result in worsening poverty, inequalities of wealth, resources, power and opportunities between countries, between the rich and the poor and between men and women," warned the ASEAN Civil Society Conference and ASEAN Peoples' Forum in a joint statement.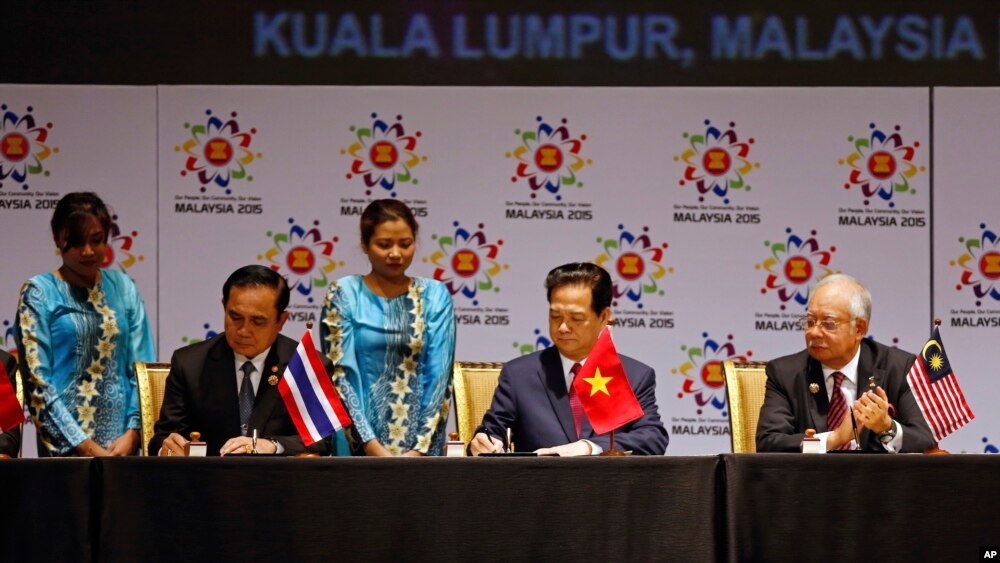 ASEAN creates 'Community' at summit shadowed by terrorism worries

Hun Sen's desire to improve Cambodia's image abroad ?